Junaid Makda, M.D.
Orthopedic Surgeon
Hip & Knee Reconstruction and Replacement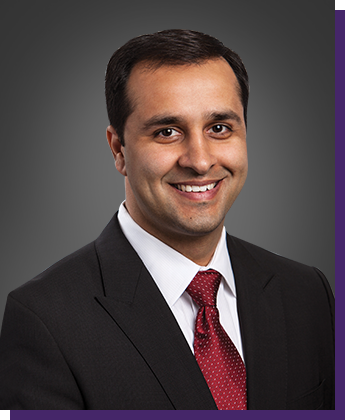 Dr. Junaid Makda, MD is a board-certified orthopedic surgeon specializing in hip, knee, and joint replacement. He has special interests in primary and revision joint replacement, anterior hip replacement, partial and total knee replacement, minimally invasive surgery, and PRP and stem cells. More recently Dr. Makda has worked on an enhanced recovery protocol following joint replacement (FAST Track Joint replacement) and developed an outpatient joint replacement program.
After completing his medical doctorate from Rush Medical College, Chicago, Illinois, Dr. Makda completed his orthopedic residency at the prestigious Thomas Jefferson University Hospital in Philadelphia, Pennsylvania. In addition, Dr. Makda received advanced training while completing his fellowship in adult reconstruction at Anderson Orthopedic Institute in Alexandria, Virginia.
Upon completing his extensive training, Dr. Makda returned back home to suburban Chicago. Dr. Makda enjoys spending time with his wife and four children. In his free time, Dr. Makda enjoys traveling, watching and playing basketball, and home renovations.
Care Philosophy
"It is my goal to provide personalized and comprehensive orthopedic care to help keep my patients moving. From non-operative treatment to state of the art surgical management, my approach to joint care revolves around my patients and their needs. I spend time educating my patients on the cause of their joint pain and what their treatment options are. I treat all my patients as if they are a part of my family."
Board Certifications
Board Certified in Orthopedic Surgery
Medical School
Rush Medical College
Chicago, IL
Residency
Orthopedic Surgery Residency
Thomas Jefferson University Hospital
Philadelphia, PA
Fellowship
Joint Replacement and Reconstruction
Anderson Orthopedic Institute
Alexandria, Va
Professional Associations
American Academy of Hip and Knee Surgeons
American Academy of Orthopedic Surgeons
American Board of Orthopedic Surgeons
Clinical Interests
Platelet Rich Plasma (PRP) and Stem Cell Injections
Additional Information
Hobbies: basketball, football, traveling
Accepting New Patients: Yes
Publications
Makda J, Siram G, Hamilton W. "Revision for Aseptic Failure." Chapter in The Knee: Reconstruction, Replacement, and Revision. Slack Publications. 2013.
Makda J, Yousuf K, Bender B, Parvizi J. "Surgical Alternatives to Arthroplasty." Chapter in Essentials in Total Hip Arthroplasty. Slack Publications. 2012.
Kearns KA, Witmer D, Makda J, Parvizi J, Jungkind D. "Sterility of the Personal Protection System in Total Joint Arthroplasty." Clinical Orthopaedics and Related Research. June 2011.
Cohen SB, Towers JD, Zoga A, Irrgang JJ, Makda, J, Deluca PF, Bradley JP. "Hamstring Injuries in Professional Football Players. Magnetic Resonance Imaging Correlation with Return to Play." Sports Health. April 2011.
Rihn JA, Patel R, Makda J, Hong J, Anderson DG, Vaccaro AR, Hilibrand AS, Albert TJ. "Complications Associated With Single-level Transforaminal Lumbar Interbody Fusion." Spine Journal. August 2009.
Rihn JA, Makda J, Hong J, Patel R, Hilibrand AS, Anderson DG, Vaccaro AR, Albert TJ. "The Use of RhBMP-2 in Single-level Transforaminal Lumbar Interbody Fusion: A Clinical and Radiographic Analysis." European Spine Journal. May 2009.
Cole BJ, Miller M, Makda J, Cohen SB. Textbook of Arthroscopy. 2004. Associate Editor.